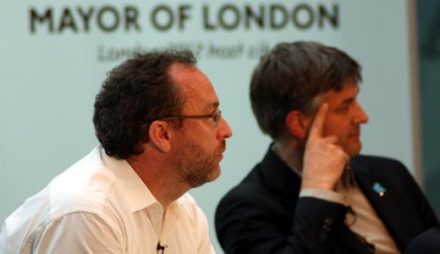 As part of the Mayor's London 2012 Debates – hosted to complement the London 2012 Olympics – which took place in the City Hall council chamber, I conducted an 'in conversation' with Wikipedia co-founder Jimmy Wales on 'Technology: Disruption and Convergence'; chaired contributions by selected respondents; and facilitated an audience Q&A. I was also involved in producing the event, which was created by Global Cities in collaboration with the Mayor of London's Office.
Structure and participants
The event was introduced by Deputy Mayor of London for Business and Enterprise Kit Malthouse; the respondents were James Harkin, author of Cyburbia; Dean Bubley of Disruptive Analysis; former MP Derek Wyatt; Josef Hargrave of Arup Foresight; Anne Lise Kjaer of Kjaer Global; Professor James Woudhuysen of De Montfort University; Lucy Hooberman, Professor and Director of Digital Media and Innovation at WMG, University of Warwick; and Alan Patrick of Broadsight (see his blog post on the debate and his contribution).
Documentation
Tweets from the event were curated into a Storify [no longer available]. The event was written up in The Next Web (Jimmy Wales Speaks out on UK Law and Freedom for Startup Growth, The Next Web, 2012). After the event I was also interviewed for the BBC Radio 5 Live show Outriders: listen to the MP3 of 'Pods 07 Jul 12: Hacking, singing and debating'. For an overview of all coverage see the event coverage page on Lanyrd [no longer available].
Tweets
Off to chair Jimmy Wales (@jimmy_wales) @MayorofLondon 2012 #LondonDebates on Technology: Disruption and Convergence: http://t.co/fxWfA0Pb
great job @Nico_Macdonald on a scintilating interview with @jimmy_wales ; now back to the family before my day pass runs out
off to the mayoral debates at city hall with @jimmy_wales keynote compered by the inimitable @nico_macdonald
A good 'un MT @Nico_Macdonald: @jimmy_wales on Technology: Disruption & Convergence @MayorofLondon #LondonDebates, Sat http://t.co/uzVqBDH0
Jimmy Wales #LondonDebates held at London House, hosted by the @MayorofLondon and chaired by @Nico_Macdonald http://t.co/pAcbZiFB
Background
The other debates in the series were 'Preparing for the Asian Century?' with Jim O'Neill; 'The Environment Imperative' with Matt Ridley; and 'Cities: Crucibles of Change' with Saskia Sassen.
See Tweets about #londondebates on Twitter. See what people are saying and join the conversation.