This Spring 2020 I will be teaching a course on 'Entrepreneurship and Startup Culture' for CIEE (the Council on International Educational Exchange), a US-based non-profit study abroad and intercultural exchange organisation (see the 2020 Study Abroad Europe Semester programs catalogue [PDF]). The course is one of the Open Campus programmes for US study abroad students, and is practically-focused, built on theory and real-world activity. The course description notes:
Students develop an understanding of the entrepreneurial process by working on a concrete and locally specific project and business plan. In order to allow students to develop their business plans within the host country market, this course first examines the entrepreneurial cultures in the host country by comparison with that of the United States. 

CIEE course description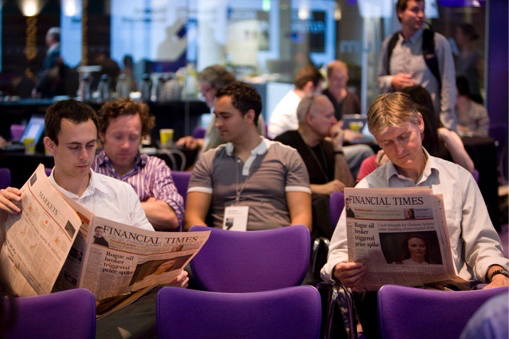 The course takes place over six weeks with two sessions per week, and three 'co-curricular' visits. Lecture and session themes include: 
Core Concepts
Models of Entrepreneurship
Coming up with a Business Idea
The Business Plan
The Foundation
Starting the Business
Organisational Culture
Tools & Engines to Develop Ideas
Post-start-up Challenges
Start-up Culture
I am planning a number of 'co-curriculars' (aka visits) to organisations including the British Library Business and IP Centre, the City Business Library, ROLI, the Imperial College White City Incubator, the Central Research Laboratory, Plexal, and a pitching event such as TechHub London's #TechHubTuesday Demo Night. The key assignment on which the students will be assessed is a business plan and pitch:
On the basis of this contextual analysis, students reflect on their own values, goals and strengths, pitching ideas, forming teams and developing a business model. Special attention is paid to the results of the customer, market, and industry analysis that are used to develop a viable product. The course also investigates different forms of intellectual property rights and explains the first steps of strategic planning. After completing all the assignments, students will be able to pitch an entire business idea based on thorough research. 

CIEE course description
This course relates to the CIEE eLab on which I advised on in 2018, and which launched in 2019, and there will be some collaboration with the eLab cohort. 
As well as educating the students about entrepreneurship and startup culture, I hope I will be able to give the them a wider view of the development of thinking around economics, business and management. And also a sense of excitement about what is possible when we combine them with some of the new creative and innovative possibilities to which we have access. 
Post hoc 
22/03/2020: This course will now be taught online, which will be an interesting and engaging challenge. Sadly there will be no co-curriculars. 
---
46-47 Russell Square, Holborn, London WC1B 4JP, UK